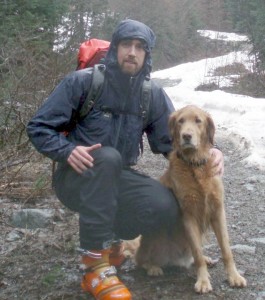 Michael Coyle is founder and company principle of BlueToque Software. He manages and reviews all the company's software, design and consulting work.
In addition to 20 years in the software engineering industry, he has been a Search and Rescue volunteer for the past 10 years, and is a SAR Manager with Coquitlam Search and Rescue. He is an associate member of the Canadian Avalanche Association. Mike's experience with the enthusiast and professional outdoor industries has given him insight into risk management strategies that he brings to his software design and development work. Putting together teams of people for a given task, managing people and resources, analyzing coverage and risk; these are all common themes to both software development and emergency management.
For a detailed view of my work history and the variety of software development projects I have participated in, you can consult my LinkedIn profile.
Prior to transitioning to consulting work, Michael worked for several employers in the Justice and Public Safety industry.
EmerGeo provides emergency and crisis management software and services to clients worldwide. While at EmerGeo, Michael was responsible for the design and implementation of the company's Fusionpoint™ software, a web framework based on a light and extensible Enterprise Services Bus (ESB) built on the Windows Communications Foundation (WCF). The software offers a flexible framework for developing a unified view of Emergency Management, and is used in Emergency Operations Centres worldwide.
Visiphor Corporation (formerly Imagis Solutions, now I2 Group, an IBM company), Senior Software Architect
Visiphor developed Arrest and Booking software for the Justice and Public Safety sector, including state-of-the-art Facial Recognition software. They also developed and deployed data integration solutions for such clients as the FBI, Department of Homeland Security, RCMP, the Province of BC, Seattle PD and many other police and enforcement agencies at the state and federal levels. Working with such clients, Michael has developed a deep understanding of data standards, system security and the requirements of Public Safety professionals.
KCC (Knowledge Computing Corporation) acquired Visiphor Corporation in 2009, which subsequently merged with I2 Group the same year. I2 was recently acquired by IBM.
Briyante Integration Environment
"BIE" was the custom designed, in-house data integration platform developed by Visiphor Corporation. Michel was responsible for ongoing development of BIE, including a re-design of the product from the ground up.
Facial Recognition
Visiphor's Facial Recognition (FR) software used technology based on lighting and terrain analysis to find, fit, and match a "probe" face against a database of previously encoded faces. Primarily used by enforcement, the technology was deployed in custom solutions and integrated into third-party applications. Michael was responsible for porting the FR algorithms to managed code on the .NET platform and making the system 64-bit capable.
InForce
InForce was Visiphor's web-based Facial Recognition and data integration platform. Deployed throughout the state of Washington. Based on BIE, InForce distributed searches from several police and enforcement agencies in disparate databases, and integrated the results in a unified interface.
InForce Arrest and Booking
"IFAB" was a smart client application that performed all the tasks of the InForce application, with the flexibility and performance of a desktop application. Michael and a team of developers designed and implemented the software over two years. IFAB built on the Facial Recognition and data integration products previously mentioned.
In his non-software expertise, Mike holds the following certifications
SAR Manager, Justice Institute of BC
Incident Command System 100
Emergency Operation Centres 110
SAR Managers are in charge of all ground SAR operations in British Columbia. This authority is delegated to them by the local police authority, ambulance or fire service. They manage the search including all air, water and ground resources, regular SAR volunteers and convergent members of the public. Thorough knowledge of ICS principles and how an Emergency Operations Centre functions during a response are essential training in this area.
Ground Search and Rescue (JIBC)
Ground Search Team Leader (JIBC)
Mike has been a ground search team leader for many years, taking part in searches in his team's "home range" in the rugged and inaccessible mountains North East of Vancouver, BC, and when called for elsewhere in BC and northern Washington State.
Mountain Rescue Level 2 (JIBC)
Rope Rescue Team Leader (JIBC)
British Columbia is a province of mountains, and mountain rescue training is one of the areas that prepares SAR members for responses in this area. Mike has both attended and assisted in in the delivery of these courses, working under qualified ACMG Guides and JIBC rope rescue instructors.
Avalanche Operations Level 1, Canadian Avalanche Association (CAA)
Associate Member of the CAA
Organized Avalanche Response Team Leader (JIBC)
SAR operations in the winter in British Columbia usually mean responding into avalanche terrain whether an avalanche is the cause of the call or not. Advanced training in Avalanche awareness, avoidance and rescue techniques as well as experience travelling in avalanche terrain and understanding avalanche control techniques is essential to the safe operation of a winter search. Mike has both attended and assisted teaching JIBC OAR, OAR-TL and CAA AST courses.
Helicopter External Transport System (HETS, Short Haul, Long Line) technician
As a HETS Rescue Technician, Mike was part of the Vancouver/Whistler 2010 Olympics and Paralympics Helicopter Rescue crew. Our team of 7 members was stationed in shifts at all the Alpine Downhill events for the Olympics and the Paralympics. During the course of the events, Mike was the rescuer who extracted US Skier Stacey Cook after she crashed on a training run.